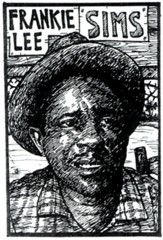 A traditionalist who was a staunch member of the Texas country blues movement of the late '40s and early '50s (along with the likes of his cousin Lightnin' Hopkins, Lil' Son Jackson, and Smokey Hogg), guitarist Frankie Lee Sims developed a twangy, ringing electric guitar style that was irresistible on fast numbers and stung hard on the downbeat stuff.
Sims picked up a guitar when he was 12 years old. By then, he had left his native New Orleans for Marshall, TX. After World War II ended, he played local dances and clubs around Dallas and crossed paths with T-Bone Walker. Sims cut his first 78s for Herb Rippa's Blue Bonnet Records in 1948 in Dallas, but didn't taste anything resembling regional success until 1953, when his bouncy "Lucy Mae Blues" did well down south.
The guitarist recorded fairly prolifically for Los Angeles-based Specialty into 1954, then switched to Johnny Vincent's Ace label (and its Vin subsidiary) in 1957 to cut the mighty rockers "Walking with Frankie" and "She Likes to Boogie Real Low," both of which pounded harder than a ballpeen hammer.
Sims claimed to play guitar on King Curtis's 1962 instrumental hit "Soul Twist" for Bobby Robinson's Enjoy label, but that seems unlikely. It is assumed that he recorded for Robinson in late 1960 (the battered contents of three long-lost acetates emerged in 1985 on the British Krazy Kat label).
Sims mostly missed out on the folk-blues revival of the early '60s that his cousin Lightnin' Hopkins cashed in on handily. When he died at age 53 in Dallas of pneumonia, Sims was reportedly in trouble with the law due to a shooting incident and had been dogged by drinking problems. ~ Bill Dahl, All Music Guide. Similar Artists:
Andrew "Smokey" Hogg, Melvin "Lil' Son" Jackson, Forest City Joe Influenced By:
Lightnin' Hopkins, T-Bone Walker, Blind Lemon Jefferson, John Lee Hooker
* Born: April 30, 1917, New Orleans, LA
* Died: May 10, 1970, Dallas, TX
* Active: '40s, '50s, '60s
* Genres: Blues
* Instrument: Vocals, Guitar
* Representative Albums: "Lucy Mae Blues," "Walking with Frankie"
* Representative Songs: "Lucy Mae Blues," "She Likes to Boogie Real Low," "Walkin' With Frankie"