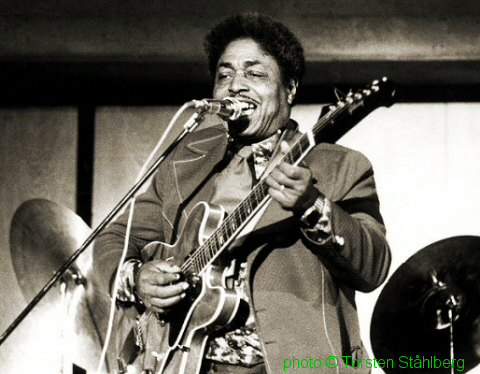 Johnny Shines (April 26, 1915 – April 20, 1992) was an American blues singer and guitarist. According to the music journalist Tony Russell, "Shines was that rare being, a blues artist who overcame age and rustiness to make music that stood up beside the work of his youth. When Shines came back to the blues in 1965 he was 50, yet his voice had the leonine power of a dozen years before, when he made records his reputation was based on".He was born John Ned Shines in Frayser, Tennessee. He spent most of his childhood in Memphis, Tennessee playing slide guitar at an early age in local "jukes" and for tips on the streets. He was "inspired by the likes of Charley Patton, Blind Lemon Jefferson, Lonnie Johnson, and the young Howlin' Wolf", but he was taught to play the guitar by his mother.Shines moved to Hughes, Arkansas in 1932 and worked on farms for three years putting his musical career on hold. It was this chance meeting with Robert Johnson, his greatest influence, that gave him the inspiration to return to music. In 1935, Shines began traveling with Johnson, touring the south and heading as far north as Ontario where they appeared on a local radio program. The two went their separate ways in 1937, one year before Johnson's death.Shines played throughout the southern United States until 1941 when he settled in Chicago. There Shines found work in the construction industry but continued to play in local bars.
He made his first recording in 1946 for Columbia Records, but the takes were never released.He recorded for Chess in 1950, and was once again denied release. He kept playing with local blues musicians in the Chicago area for several more years. In 1952, Shines recorded what is considered his best work for the J.O.B. Records label. The recordings were a commercial failure and Shines, frustrated with the music industry, sold his equipment and returned to construction.
In 1966, Vanguard Records found Shines taking photographs in a Chicago blues club and had him record tracks for the third installment of Chicago/The Blues/Today! The album has since then become a blues classic and it brought Shines into the mainstream music scene.In the late 1960s and 1970s, Shines toured with Robert Johnson's stepson, Robert Lockwood, Jr. as the last remaining original delta blues musicians. In 1980, Shines' music was brought to a standstill when he suffered a stroke. He would later appear, and play, in the 1991 documentary The Search for Robert Johnson and manage to release one last album, Back To The Country, which won a W.C. Handy Award. It featured playing from Snooky Prior and Johnny Nicholas.
In the mid 1980s Shines was "adopted" by a group of Tuascaloosa blues lovers. The core of this group was Debbie Bond and her Kokomo Blues Band. The group kept Shines socially active, taking him to gigs by local and national Blues musicians, and Debbie kept him supplied with vitamins and minerals to reduce the affects of the stroke and drinking relapses. Shines had very little income and lived in a simple cinderblock apartment in a rough section of Tuscaloosa. In 1985, Tuascaloosa's National Public Radio station produced a show honoring Shine's birthday. The Mayor of Tuscaloosa proclaimed Johnny Shines Day and presented him a Key to the City. During this perios, Shines was also cared for by his girlfriend, Miss Candy.
In 1989 Shines came to California to play a month long tour hitting universities (UC Santa Cruz) and clubs, ranging as far north as San Francisco's "Slims", where he played an acoustic set with David Schnittman backing him on guitar plus a mandolin player. For the rest of his shows Johnny used a local Santa Cruz CA blues band named "Blue Magic". The band leader was the late Gary Martin (guitar/vocals) David Schnittman (Bass) and Scott Cooper (drums). Johnny had suffered a stroke a few years earlier but his voice retained its legendary power. However he could no longer "fret" his guitar with his left hand and played only "slide" guitar; both on his acoustic and electric guitars. Johnny and the Blue Magic ranged as far south as the Belly Up club in San Diego and the "Palomino Club in Los Angeles. At these two southern California dates Johnny shared the stage with Clarence "Gatemouth" Brown. Shines died on 20 April 1992, in Tuscaloosa, Alabama. He was inducted into the Blues Hall of Fame later the same year.