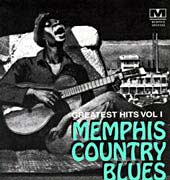 Hambone Willie Newbern
(1899-1947) was a
guitar
-playing
blues
musician
. His home community was in the
Brownsville, Tennessee
area along
Tennessee State Route 19
. He was reported to have played with
Yank Rachell
and
Sleepy John Estes
(from whom most of our knowledge of Hambone was gained) in the 1920s and '30s. He recorded one of the earliest known versions of the blues standard "
Rollin' and Tumblin'
" in 1929.Little is known about blues songster Hambone Willie Newbern; a mere half-dozen sides comprise the sum of his recorded legacy, but among those six is the first-ever rendition of the immortal Delta classic "Roll and Tumble Blues." Reportedly born in 1899, he first began to make a name for himself in the Brownsville, TN area, where he played country dances and fish fries in the company of Yank Rachell; later, on the Mississippi medicine show circuit, he mentored Sleepy John Estes (from whom most of the known information about Newbern originated). While in Atlanta in 1929, Newbern cut his lone session; in addition to "Roll and Tumble," which became an oft-covered standard, he recorded songs like "She Could Toodle-Oo" and "Hambone Willie's Dreamy-Eyed Woman's Blues," which suggest an old-fashioned rag influence. By all reports an extremely ill-tempered man, Newbern's behavior eventually led him to prison, where a brutal beating is said to have brought his life to an end around 1947.